Founded in 1972 by John Rinfret, Balcan Engineering Ltd has always been ahead of the times with its designs and innovations which can not only save lives, but also protect the environment. 
A bottle crusher to simply reduce the volume of waste, led to a range of vial crushers designed to crush & empty vials safely, at the same time collecting the often hazardous, radioactive, or flammable cocktails.  These liquids could then be sent for bulk liquid disposal saving companies thousands in time spent emptying by hand or disposing of as full vials.  Balcan's vial crushers led to the design the world's first commercial lamp crusher. 
In the mid 90's Balcan started the UK's first lamp crushing & disposal service and unlike anyone else offered full traceability of the waste.  For the turn of the Millenium and with the drive for lamp recycling well underway, Balcan designed and built their own lamp recycling system.  They used and developed this system, before making it commercially available in 2006 after winning the Queen's Award for Enterprise.  
The Balcan Lamp Recycler has allowed Balcan to become a world leader in the supply of lamp recycling equipment.  In the UK, Balcan's expertise in waste lamp management that has helped it become the UK's largest lamp recycler.  
Offering the best of all worlds for lamps, Balcan Lighting Supplies provides lamp & lighting solutions to may top end high street names.  You can now buy & have your lamps recycled by Balcan.
One of our origianl highly acclaimed innovations – the B.E.L.L. – Balcan Emergency Life Line – is the ultimate life line for water rescues.  Capable of being thrown up to 40 metres, it outperforms all other manually thrown water rescue devices.  Used extensively by the emergency services & awarded Nato Stock Numbers (NSN's) by The Royal Navy, everyone should keep a B.E.L.L. nearby. 
Whether you are looking for a lamp crusher, lamp recycling equipment, lamp storage, or even if you just have lamps that need recycling Balcan can help.  In addition their Balcan Lighting Supplies department can provide you with the latest energy efficient LED lighting.
All our equipment is designed, manufactured and built in the United Kingdom.
Balcan FSL Lamp Crusher & Recycling Service
The Balcan FSL Lamp Crusher provides the safe and controlled crushing of all types of lamps. Lamp are covered by the WEEE Directive & must be recycled.  With their mercury content, fluorescent tubes and energy saving bulbs must not be thrown away with normal waste.  Using the Balcan Lamp Recycling Service ensures your lamps are recycled.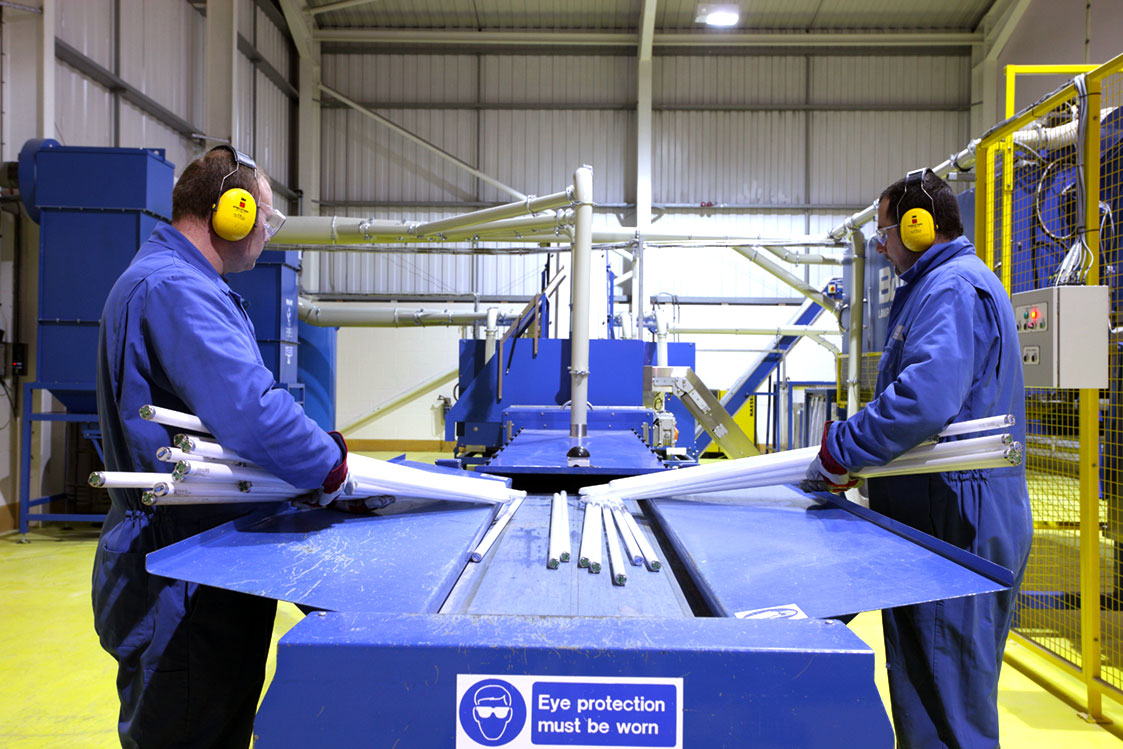 These crushers provide the safest way of reducing volume whilst controlling the mercury vapour.  Lamp debris is collected in special containers prior to being taken to the Balcan lamp Recycling Facility.
On-site lamp crushing and lamp recycling service
The Balcan on-site lamp crushing or collection lamp recycling service provides full traceability of the waste lamps, helping companies comply with  ISO14000, Hazardous Waste Directive & WEEE Directive. Balcan lamp recycling is now the largest UK lamp recycler and an accreditited supplier to Recolight.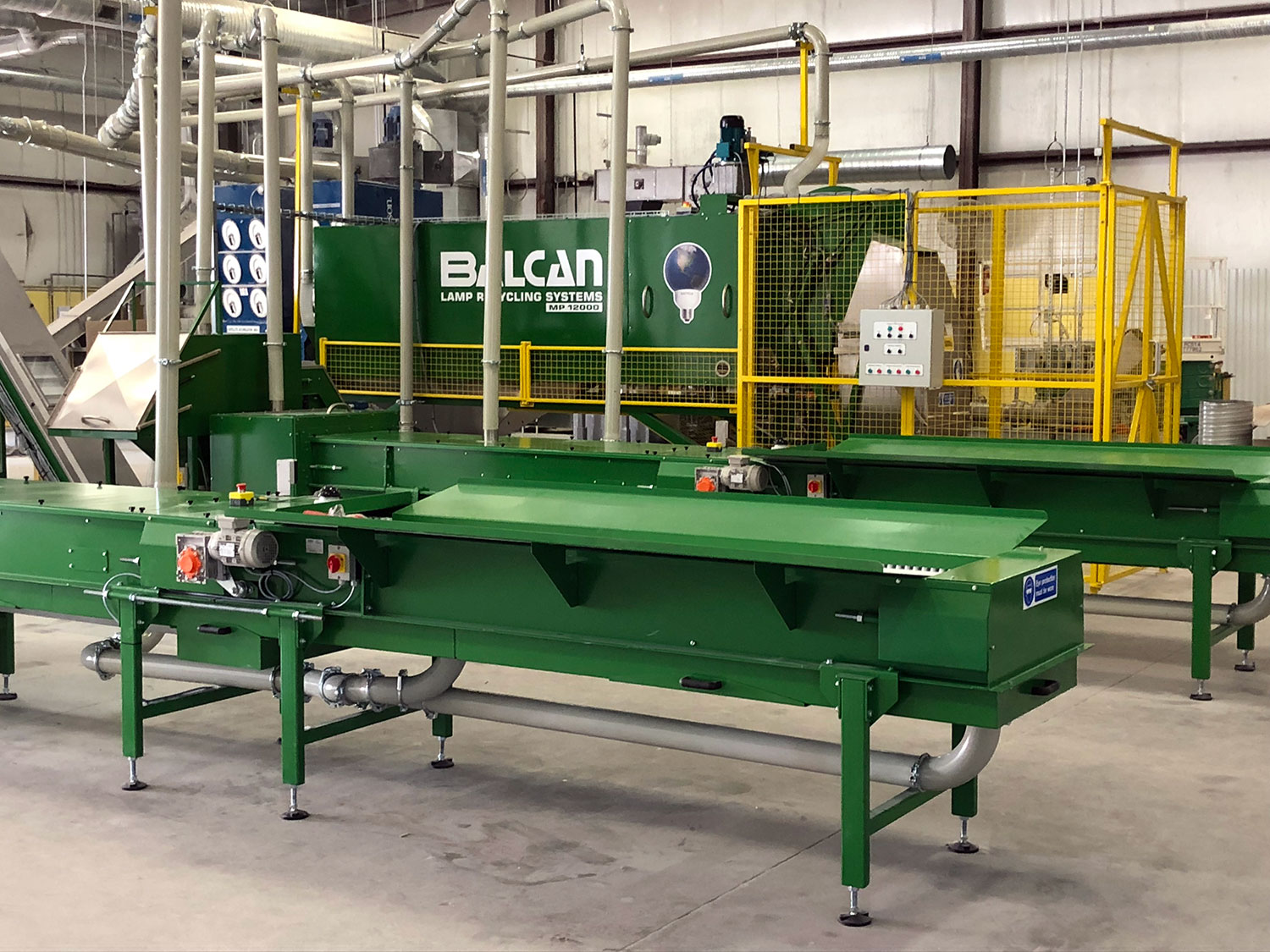 Balcan designed its own lamp recycling equipment early 2000's & since 2008 Balcan have been selling their lamp recycling systems throughout the world. The Balcan Lamp Recycler is now the system of choice in the US and many other countries.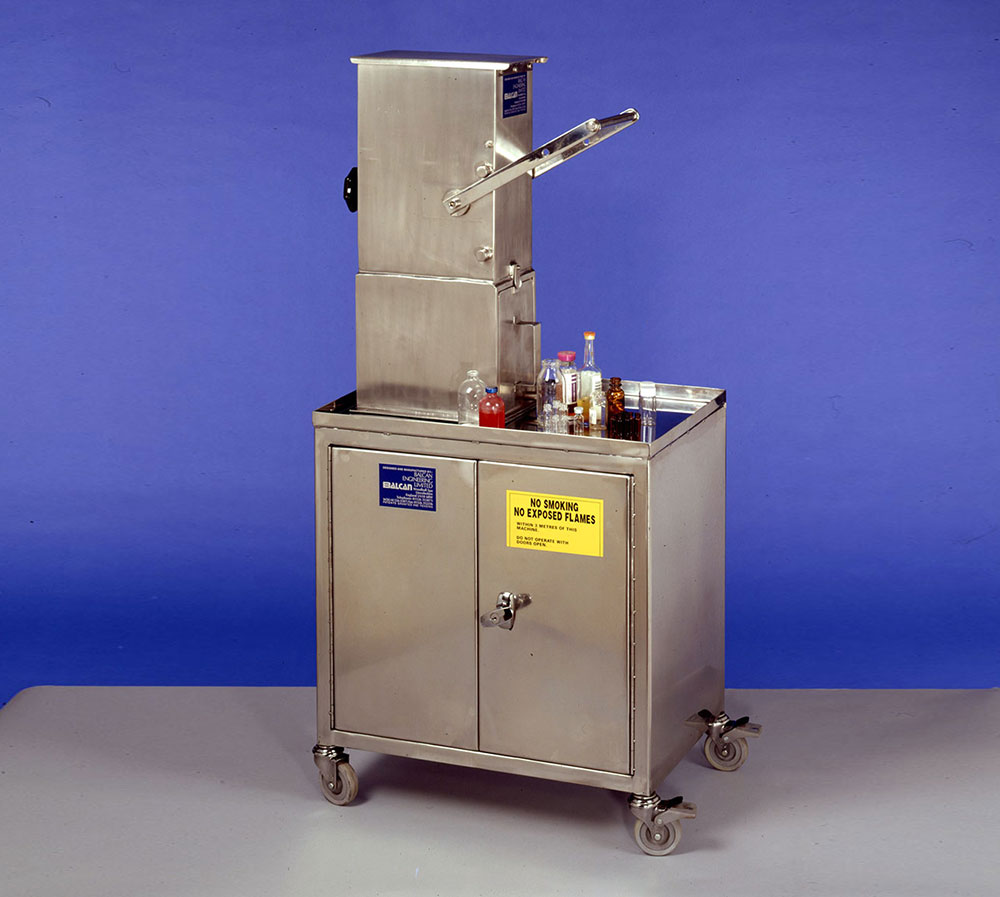 The Balcan Bottle & Vial Crusher range reduces the volume of waste by up to 80%
The Balcan Bottle & Vial Crusher range reduce the volume of waste by up to 80%. In addition they allow liquids to be separated from their glass, or plastic containers which can help reduce their disposal costs.
Some clients have eliminated all of their disposal costs, allowing the machine to pay for itself very quickly and achieve considerable savings. These units are available to crush glassware from 4.5litre Winchester bottles, down to 1ml autosampler vials as well as plastic scintillation vials.