Balcan Mk2M Manual Vial Crusher
The Mk2 range of Balcan Vial Crushers, both manual & pneumatic, are fitted with a unique adjustable breaking chamber, allowing this model to accept, crush and empty a variety of glass containers from 1ml (8mm diameter) A/S vials up to 100ml sizes.
Intended to handle containers which, due to their contents, should not be disposed of whole, an adjustable breaking chamber ensures once correctly set, none will pass through unbroken.  Nor will it become clogged or jammed (particularly in the case of very small sizes) with plastic, rubber or metal closures.
The merit of this style of chamber is once set correctly, the minimum of effort is required to crush everything.
The machine is fitted with an eccentrically mounted roller that is oscillated to give a crushing action during its forward sweep, when at the same time deforming and passing over metal, plastic and rubber closures that cannot be broken.  The backward action then sweeps these together with the crushed debris.
The crushing action does not pulverise the glass, instead breaking it into pieces from which liquid drains more cleanly and quickly.  In this way it ensures maximum drainage &  minimum of are produced.
Once crushed, the debris, together with liquids, discharges into the drawer fitted directly underneath and from where a spout allows liquids to be drained and collected for separate disposal.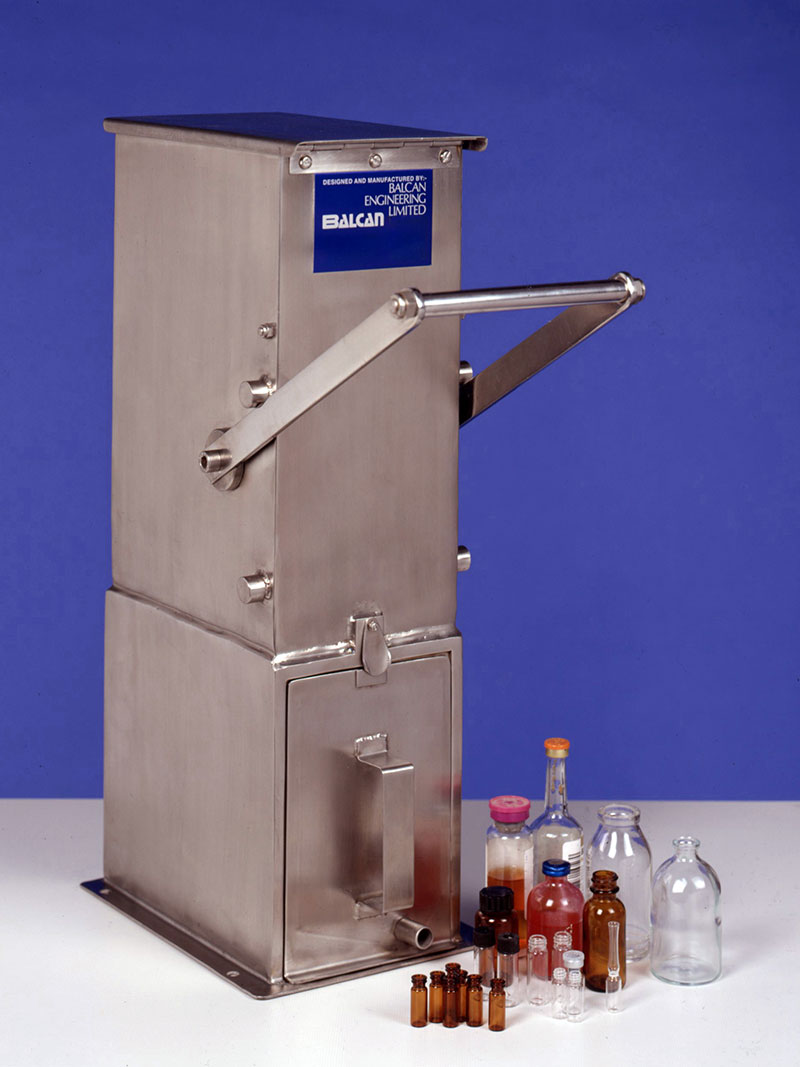 Mk2P Pneumatic Vial Crusher
Mk4P Pneumatic Vial Crusher
VC8000 High Capacity Vial Crusher
Hypodermic Needle DESTRUCTORS
Vial Crusher stainless steel trolley version
The machine can be supplied for bench mounting or complete with a stainless steel trolley, the advantage of this being it ensures the crusher can be operated at the most convenient height and allows it to be moved out of the way when not in use, or from one user to another.
It also makes the unit self contained because a drum for collection of liquids from the debris can be fitted in the cabinet of the trolley, together with a receptacle for the glass. Both models are comparatively compact and can be operated within fume cabinets.
The pneumatic model can also be supplied so it can be remotely controlled from outside a cabinet.